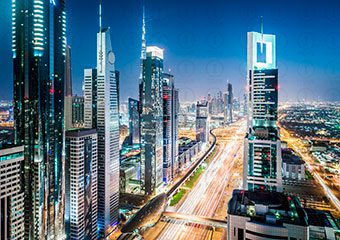 09 أكتوبر

UAE Freezones – Dubai Healthcare City

UAE Freezones – Dubai Healthcare City

The initiative of His Highness Sheikh Mohammed bin Rashid Al Maktoum, Vice President and Prime Minister of the UAE and Ruler of Dubai, to establish Dubai Healthcare City came as a clear embodiment of Dubai's interest in the healthcare sector. And its leadership in this field over the years, to be the first free zone specialized in healthcare in the world, that provides health and medical care at the highest levels to patients inside and outside the country.

Dubai Healthcare City continues to prove the importance of its role in the health field day after day by moving forward in providing more services, expanding more, and creating more medical centers and hospitals, which contributed to achieving remarkable development within a short period, becoming an integrated complex for all medical services.
About Dubai Healthcare City
The Dubai Healthcare City (DHCC), established in 2002, on
Brings together core healthcare services, attracting the best in class global and regional names, as well as a network of businesses from hospitality to consultancies and retail outlets. DHCC is governed by Dubai Healthcare City Authority (DHCA) and has its own regulatory body and facilitates end-to-end business set-up
About Dubai Healthcare City (DHCC)
Dubai Healthcare City was founded in 2002 on 4 million square feet in the center of Dubai with the goal of offering the highest level of medical care to inhabitants of the United Arab Emirates and other countries. In addition, the city includes more than 160 medical facilities in the city, including health centers, hospitals, clinics, labs, and medical centers. With over 3,700 specialists in different medical fields.
DHCC Amenities & Facilities
Mohammed bin Rashid Academic Medical Center is a medical academic center and the educational branch of Dubai Healthcare City, which also includes Al Maktoum Medical Library, Dubai Dental College, and the Khalaf Ahmad Al Habtoor Center for Medical Simulation. It was founded with the goal of improving education and raising health care services to the next level. It aims to continuously develop the levels of medical education and training and to provide the best medical services within a high-level treatment environment so that patients make sure to get treatment in a safe environment, which increases their confidence in the services offered within the center.
The Conference Center
The conference center is considered the largest meeting hall in DHCC, it includes Ahmed Seddiqi Conference Hall, which is equipped with the latest technologies to host scientific conferences, lectures, and workshops, as well as the Easa Saleh Al Gurg hall, is the largest meeting hall in Mohammed bin Rashid Academic Medical center, specialized in practical medical training and equipped with the best educational medical equipment.
Mohammed Bin Rashid University of Medicine and Health Sciences was established based on Dubai Healthcare City's keenness to enrich the medical sector with high-level cadres and competencies as part of its endeavor to train and qualify health care providers.
The university includes many advanced educational and academic facilities within the Mohammed bin Rashid Academic Medical Complex, in addition to the University Hospital, which was opened in 2017 to be used as a major destination for vocational training.
The university also aims to refine the skills and capabilities of medical personnel by providing training programs for health care providers to enhance the level of health services in Dubai Healthcare City and throughout the Emirate of Dubai in a culture that celebrates excellence and professionalism.
Khalaf Ahmad Al Habtoor Center for Medical Simulation
The Khalaf Ahmad Al Habtoor Center for Medical Simulation was established as a comprehensive training center based on clinical simulation, with the latest medical technologies and equipment.
It is one of the main centers within Dubai Healthcare City in the field of medical education and scientific research. It seeks to train medical personnel in clinical skills without causing any risks to patients, by using human dolls as an alternative.
Al Maktoum Medical Library is an advanced library that includes a group of medical educational resources at the highest levels in the region. It represents a huge scientific database that includes more than 1,500 references in various medical fields, as well as more than 1,200 electronic scientific journals and 200 paper journals from major centers of Research and universities in the UAE and around the world.
The library also provides a suitable academic atmosphere for students and researchers, within spacious and well-equipped classrooms. It also includes the library. The library also includes the Dome of Saeed and Mohammed Al Naboodah for books and scientific references, which contain the publications of the Mohammed bin Rashid Al Maktoum Foundation as a gift from the Foundation to the complex.
In addition to the Mohammed bin Rashid University of Medicine and Health Sciences, Dubai Healthcare City includes the Hamdan bin Mohammed College of Dentistry, which offers three-year master's programs in various specialties in dentistry, and includes clinical training at the specialized level, and ideal preparation for internationally accredited specialty exams, including Including the Certification Exam of the Royal College of Surgeons of Edinburgh.
Hospitals in Dubai Healthcare City
Dubai Healthcare City seeks to be an example among medical cities in the world, and it was and still aims to become the first destination for obtaining the best health care services, education programs, and scientific research, and this is evident in hospitals that provide all means of health care within various specialties.
Mediclinic City Hospital
Mediclinic Hospital provides the best healthcare services in various fields such as neurosurgery, plastic surgery, dentistry, and others, as it includes more than 110 beds distributed in different departments.
Al Jalila Children's Specialty Hospital
Al Jalila Children's Specialty Hospital includes the latest methods of smart technology in order to provide health care at the highest level, which is embodied in a robotic pharmacy to shorten the waiting period for receiving medication using robots that dispense medication automatically. The hospital also provides smart robots that work within laboratories.
Moorfields Eye Hospital Dubai is an award-winning hospital for the best eye hospital in 2014, providing its services according to the highest international standards and standards.
It is the first hospital to be opened in Dubai Healthcare City. The hospital, with its advanced technologies, provides unparalleled healthcare services, for visitors and citizens of the UAE. It also provides a luxurious and enjoyable stay, as the hospital includes elegant rooms and suites equipped with all amenities. Comforts.
These were the most prominent aspects and medical facilities included in Dubai Healthcare City. If you want to establish your business within the healthcare services. You can contact us now .