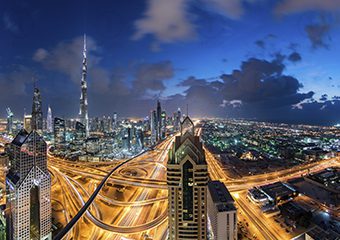 28 سبتمبر

Khalifa Industrial City in Abu Dhabi – UAE Freezones

Khalifah industrial city has played an essential role in fulfilling Abu Dhabi's vision 2030, which aims to push UAE's economy forward.

It has been built according to the highest standards in terms of infrastructure, operational process, and surrounding environment to attract skills

KIZAD has been designed according to the highest standards in terms of infrastructure, operations, with the aim of attracting highly skilled and qualified people, besides supporting investors.

Besides the port facilities, the region boasts a strategic location that provides an exceptional opportunity to access many local and international markets, making it a significant industrial, logistical, and trade hub. Khalifa Port is one of the most important ports in the United Arab Emirates and one of the most developed ports in the world.
Khalifa Industrial City Benefits
KIZAD has many advantages that bring great benefits to investors and business owners. We mention here the most prominent
Easy access to different areas and markets
It is one of the most important advantages, it allows access to various markets by land, sea, and air. Here is an overview of it:
Roadway: 3 mainland routes and 4 dual highways
Naval: it connects the capital with approximately 60 international destinations, and serves nearly 20 major international shipping lines
By air: 4 international airports
Railways: 23 railway lines
Exceptional Infrastructure
KIZAD provides an advanced infrastructure that meets all businesses requirements, starting with internal public transport, communication services, sanitation, and others. The city's plan is directed towards linking the Union train line in the future through railways.
Innovative solutions
KIZAD offers so many solutions, such as leasing land, warehouses…, and it is expected to provide solutions for light industries.
Investor support
KIZAD aims to encourage investors and support their projects in various fields, in a totally tax-free business environment. The customs exemption also covers projects that are established in Khalifa Industrial City.
Types of licenses in the free zone
Khalifa Industrial city free zone offers different types of licenses for establishing companies. Check out these types with us:
Industrial License: gives the opportunity to import, manufacture, process, assemble and package raw materials and export products
Trade License or General Trade License This license covers commercial activities such as importing, exporting, distributing, storing, and placing products in warehouses.
Services license includes administrative and economic advisory services, marketing services, and .logistics, including shipping, catering, and travel businesses, etc.
Free Zones Legal Entities
There are two legal entities that can be established in the KIZAD Free Zone:
Limited Liability Company: An organization or individual with a minimum capital of150 thousand AED affiliated with another organization or individual.
A subsidiary company is a company that is not part of Khalifa Port Free Zone, but has a valid commercial license.
Furthermore, the subsidiary company can be registered for a UAE company or as a foreign company.
If you are interested in setting up a business in KIZAD, contact ITQAN to assist you in completing all procedures.