14 Aug

Ranking of universities in the UAE 2023

Looking at the ranking of universities in the UAE, we find that many of them occupy advanced positions in the world and Arab countries. The UAE is one of the developed countries in a number of fields, whether at the economic, tourism, educational or other levels. Therefore, some American universities have an effective role in international studies and have become a destination for a large number of male and female students from different countries in the world.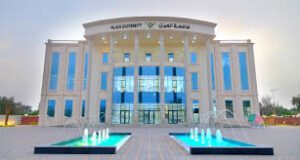 Ranking of universities in the UAE according to the QS ranking
UAE universities have been able to occupy advanced ranks in the QS rankings. Which includes the best 750 diverse universities from the world's universities. According to this classification, the eight UAE universities are among the top 2.8% of universities in the world. And within the best 1.4% of Arab universities, we will address the eighth groups.
Eighth place Abu Dhabi University
It is among the universities that rank between 701 and 750. It is considered one of the first private universities established in the UAE in Abu Dhabi, which has three main branches. They are Al Ain branch, Dubai branch, and Abu Dhabi branch. And I began practicing educational work in 2003 under the directives of Sheikh Hamdan bin Zayed Al Nahyan. It offers a number of study programs that include Arabic and English. More than 3,893 male and female students are studying there, with a teaching staff of 262, and a large number of scientific and research contributions.

Seventh place Zayed University
The university is located between centers 651 to 700, and it was established in 1998 in Abu Dhabi. It is a university campus in Dubai that was named after the founder of the country, Sheikh Zayed, and it is one of the distinguished public universities. Which includes more than 6396 male and female students, and the teaching and educational cadres reach 554 members, including teachers, assistants, assistants, and professors.
Sixth place University of Sharjah
It comes from 601 to 650 worldwide. It was established in 1997 under the auspices of the Ruler of Sharjah, Sheikh Sultan bin Muhammad Al Qabsi. It is one of the independent universities that has a personality and an independent administrative and financial entity, and it is owned by the government in Sharjah.
Fifth place on all Canadian in Dubai
The university was able to gain a lot of experience to take a place in university rankings worldwide. It was ranked in the first 1,000 universities in 2022, falling from 601 to 650 globally. It is licensed outside of Canada and is considered one of the first universities to obtain the license. In addition, it has an impressive infrastructure. It includes a number of accredited research centers in accordance with international standards and scientific research, and contributes widely and significantly to the field of scientific research. It was able to draw attention and help to be the best university in the world and the UAE.
Fourth place is the American University in Dubai
Among the universities located between centers 601 to 650, it was established in the Emirate of Dubai in 1995. It is the granting of educational institutions with an independent entity that informs students of Emirati nationality and participates in a number of educational contributions, as it includes more than 1275 students and 16 faculty members. It has been ranked as the best university in the Gulf Cooperation Council countries and is based on the American educational method. And offering academic programs and postgraduate programs, including business administration programs.
The third place is the American University of Sharjah
It occupies No. 383 in the world and was able to occupy an Arab and international position. It was established by Sheikh Sultan bin Muhammad Al-Qasabi, Ruler of Sharjah, and it is one of the universities.
Eighth place United Arab Emirates University
It is one of the oldest universities in the Emirates, which was strengthened by Sheikh Zayed bin Sultan Al Nahyan in 1976. It is one of the largest universities with 1238 students and 846 faculty members.
First place, Khalifa University of Science and Technology
One of the universities in Abu Dhabi, which is a non-profit organization, was founded in 2007 and has many scientific contributions annually. It includes 3,295 male and female students and 442 faculty members.